Enhanced Lateral Flow Assay
Lateral flow assays (LFAs) are easy-to-use diagnostic tools that can confirm the presence or absence of target analytes, such as biomarkers, drugs, or pathogens in a number of matrices such as urine, saliva, blood, and water, to name a few.
LFAs have become successful detection tools due to their low cost, reliability, and ease of use. LFAs simple platform contains a control line to confirm that a test is working properly and a test line to determine the presence or absence of the target analyte. This allows for qualitative visual readings or quantitative readings when LFA strips are incorporated with reader technology.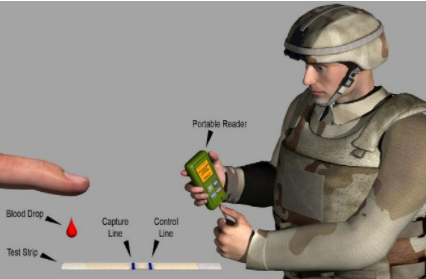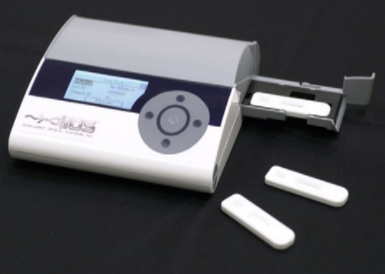 Further, LFAs simple interface is designed to incorporate straightforward protocols that require minimal training to operate, making them excellent devices for point-of-care and at-home use.
At IOS, we have taken advantage of the intuitive LFA platform to produce assays that can be used for the detection of biomarkers for various organ systems, immunosuppressant drugs, and drugs of abuse in blood and saliva for use in point-of-care settings.
Our focus has been on addressing the need for the measurement of multiple biomarkers and treatment drugs from clinical and animal study samples to aid in both research and the prognosis, diagnosis, and treatment of a number of conditions.
Contact Us
Fill out the form below for commercial inquiries or to learn more about our technologies and capabilities.